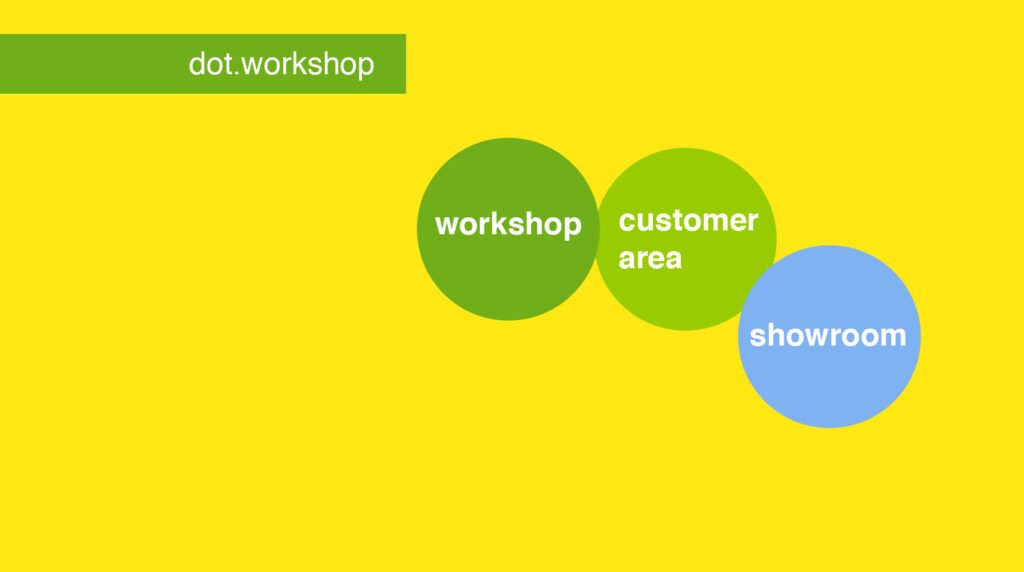 An average dot.workshop will have two to three areas: the workshop and the customer area, and possibly a showroom.
The customer area has a cosy and relaxed atmosphere where the customer can meet the tailors or the fashion adviser, where purchases can be tried on and where fittings can take place.
The showroom displays a small collection of local designs. And as a special service, the showroom includes a bar with monitors for in-shop online shopping.
It will be important to determine a minimum size for a dot.workshop to ensure the feasibility of the business.
Determining a maximum size will also be important to ensure that a maximum number of dot.workshops can participate in the network, and not just a few big ones.
A dot.workshop can be extended to include related businesses such as a recycling point for old clothes, a hairdresser or a photo studio.
A cooperation with a fabrics shop is particularly useful in connection with bespoke outfits. A customer could, for example, peruse the fabrics on offer and the catalogue of designs, and then make suggestions for a bespoke outfit.
Repairs is an area that will become increasingly important again in order to save resources. And it has the additional benefit that favourite items can be restored.
There is also a service for recreating items which either don't fit any more or have seen too many winters.
Since the dot.workshop uses cargo bicycles for deliveries, it makes sense to have a bicycle shop on location, too.
A visitor to an extended dot.workshop can easily spend a pleasant afternoon on location.